客户服务热线
Customer Senvice Hotline
Weights: What are the precautions when using weights?
Weights enable people to learn a common tool of measurement and analysis in social life. It is widely used in many industries and enterprises in the field of economic development. It is precisely because of the wide range of research on its application system. In the actual life of human production management, different cultural and educational fields have begun to emerge weights of different types of products in various ways, Have you heard of calibration weights? How much do people who have heard or seen it know about it? Calibration weight is also a different type of weight, which is more systematic and extensive in the application research of daily learning and life of enterprises.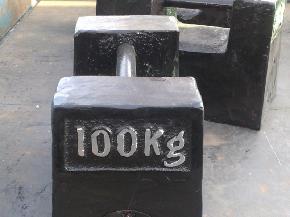 1. Before the weight is used for research, use your own enterprise specific cleaning brush and cloth to clean the dust and other stains on the weight as a surface.
2. It is forbidden to touch heavy objects directly with hands. When using weight, please wear a special glove
3. Before the balance detection or weight comparison, the weights need to be constant temperature to achieve the development of the atmospheric pollution environment in the laboratory, otherwise it will have a serious impact on our analysis of the research results through the detection technology.
The weight must be stored in the original packing box before use.
The weight shall be kept in good condition and shall not be placed in damp. A dusty environment.
6. Check the weight in the box before and after use to avoid loss.
7. It is not allowed to touch weights with bare hands. When using weights, students should use their own special network technology tools to analyze and extract weights.
8. Before use, use a soft brush or special rag to remove the dust on the weight surface.
9. Before the balance test, the weight needs constant temperature to improve the atmospheric environment of the laboratory.
10. When lifting and placing heavy objects, you must handle them gently.
11. In the process of using information management, we can avoid sticking acid, alkali, grease, etc.
12. This set of weights shall not be mixed with other weights.
13. After the weight is used up, it can be wiped and cleaned with biomedical alcohol, and stored in the original box for use after natural air drying.
14. The weights shall be regularly calibrated at different frequencies according to the design, and the calibration records shall be made.
15. If there is any doubt about the performance of the counterweight, it shall be immediately sent to a professional educational institution for inspection.
16. The weights must be handled with care. In the process of using information management, we can effectively avoid sticking acid and alkali grease weights. It is strictly forbidden for students to contact corrosive substances in Chinese society
17. Before use, use a soft brush or special rag to remove the dust on the surface of heavy objects. Stainless steel weights shall be kept properly and shall not be placed in a damp and dusty environment. Before the electronic balance test, the weight shall be kept at a constant temperature to meet the atmospheric conditions of the laboratory.
18. Usage Before and after treatment, the weights in the box should be counted once to avoid loss. This group of weights should not be mixed with other weights by Chinese enterprises. After use, the weights can be washed with medicinal alcohol. After natural air drying, they should be stored in the original box for use to prevent collisions or falls and avoid collisions or scratches. Weights shall be regularly calibrated according to different working frequencies available to students, and calibration records shall be made.
Nanning Weighing Instrument Factory was founded in 1956. Its main products include weights, scales, weights, mechanical scales, mechanical scales, standard weights, old scales, scale accessories, mechanical scale accessories, etc. It has a long history of more than 50 years of production and operation of weighing instruments. The registered capital is 2.82 million yuan, the total assets are 13 million yuan, the floor area is 7280 m2, and the building area is 11358 m2. Annual production capacity: 500 electronic truck scales, 50000 desk scales and 50000 electronic platform scales. It is a professional manufacturer engaged in the R&D, design, production, sales and service of industrial weighing instruments, household weighing instruments and other products, which was established earlier and has a relatively large scale in Guangxi weighing instrument industry.
相关新闻