客户服务热线
Customer Senvice Hotline
Standard weight: production process of one ton standard weight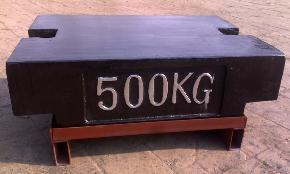 Standard weight: I believe that everyone has been exposed to and even used weights in daily life, but do you know how a standard weight weighing up to one ton was made by the factory? What is the specific industrial process like? At present, with the rapid development of industry, many industries have been driven up, so more and more industries need to use a standard weight. For example, some small scales will use stainless steel weights, while some larger items need to use cast iron weights. Today, I will lead you to understand how a ton of standard weights are accurately manufactured by people.
As the market competition becomes more and more fierce, in order to adapt to this market, many factories will change their production processes according to their own sales groups, so they will be different in production processes. The standard weight of one ton will be different in technology according to the material used by the manufacturer. At present, most of the large weights are made of stainless steel or cast iron. However, due to the high price of stainless steel, most people still choose to buy cast iron weights in daily use. In the production process of one ton of weights, stainless steel weights are often processed by forging and casting, so their quality is often better than that of cast iron weights. However, according to the cost performance ratio, cast iron weights are better because their material is much cheaper than stainless steel.
Some factories even directly use molten iron for casting, and then apply a coating with anti-corrosion function on the outer layer of the standard weight, which can prevent the weight from rusting and thus affect its quality. This production process is relatively simple, but the produced weight looks slightly rough. Some factories will directly use iron bars for finishing, and paint the outside with a layer of paint, which will be better. A good way is to select materials with good corrosion resistance, directly process and manufacture a standard material, and improve the strength and hardness of the material itself. In this way, a layer of anti-corrosion coating is applied, which will greatly improve the hardness and corrosivity of the weight itself. Therefore, in the process of purchasing, we must pay attention to the processing technology of the weight itself.
相关新闻